Echo Restaurant
Here is our restaurant review:
Echo Restaurant
609 E Olive Ave, Fresno Ca 93720
559.442.3246
Location: Restaurant is located in the Tower District, on Olive Ave between Palm and Wishon Avenues. Next door to 609 Grill Restaurant.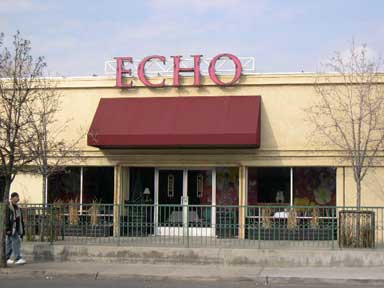 Review: Echo is a highly acclaimed Californian cuisine-style fine dining restaurant in Fresno. The menu changes daily as chef and owner Tim Woods strive to cook from the freshest ingredients available in the valley.
Maybe we were there on an off-day, but the food was not spectacular or memorable.
Echo will be moving to a new location at Champlain and Perrin (Piazza Del Fiore) in 2005 and we will probably give it another shot then.
Reservations are recommended.