Reviews of Fresno Thai Restaurants
Here are reviews for several Fresno Thai Restaurants. Pad thai, yellow, green and red curries are all part of the colorful Thai cuisine. Help us out by submitting your
Restaurant Review
!
If you would like to save money, get the Entertainment book today. You will SAVE up to $12 for the Thai Royal Orchid and up to $10 for the Thai House! The book is a great deal and you will save on other restaurants as well.
Here are the reviews:
Star of Siam Thai Cuisine
9447 N. Fort Washington Rd. #112
559.433.9085
Location Tip: This Fresno Thai Restaurant is at Friant & Fort Washington, across from the new Gold's Gym.
Linda Barry from Fresno, CA, submitted May 02, 2005: The first thing you notice as you walk in is the beautiful decor. Everything has been brought over from Thailand. Ornate wood carvings, bronze statues, Thai paintings. Even the china has been hand painted in the owners (Star) home province of Thailand. I started with their house special appetizer money bags. Ground shrimp and chicken in a little rice paper bag fried in soy bean oil. The sauce you dip these into is another of the house specialties. This was so good I could just keep eating them and forget about the rest of the meal. I then had the Siam mussels. Charbroiled mussels covered in yet another house specialty sauce of plum, chili and garlic. Then it is topped with fresh crisp basil. I'm hungry just thinking how good these were. Last I decided on a seafood combination plate called Seafood Delight. So many good things in this dish, calamari, fish, and shrimp assorted vegetables in a wonderful sauce served on a sizzling platter. Last to totally indulge myself for desert was the coconut sticky rice with fresh sliced mango. Truly a Thai specialty. All I can say is go to this restaurant soon before it is really discovered and you can't get even a reservation.
Fresnohub Reader Review, submitted April 23, 2005:I love the Pad Thai! The sticky rice and mango is the best! Yum! This is my favorite restaurant in Fresno. It's so clean with such beautiful decor even in the bathrooms. The owners come out and talk with you and it's just such a comfortable place to eat.
Fresnohub Reader Review, submitted Mar03, 2005: Beautiful authentic Thai decor casually upscale and comfortable. Some of the best Thai food I've ever had. Try their spicy mussels or yellow chicken curry. The Pad Thai is probably the best that I have ever tasted. Imported coconut ice cream from Thailand that had no dairy products just pure coconut. But try the sticky rice and fresh mango for dessert!
Fresnohub Reader Review, submitted Jan24, 2005: Best Thai food on the west coast. Certainly better then anything in the central valley. Extensive menu with nightly specials. Servers dressed in traditional Thai silk saroongs. Decor very upscale, very authentic Thai. www.starofsiamthaicuisine.com
Thai Royal Orchid
6735 N First Ave, Fresno CA 93710
559.431.0132
Sample Thai Royal Orchid Menu
Location: This Fresno Thai Restaurant is located in the complex at the Southwest corner of Herndon and First Ave. Review: This is a great Fresno Thai restaurant with an extensive menu.
Check out Thai Royal Orchid's menu. They have appetizers, combination plates (comes with salad, an entree, steamed rice and mixed vegetables), a good selection of vegetarian dishes, beef, poultry, pork, seafood and desserts. If you don't know what to order, feel free to ask the waitress or the owner who is sometimes at the restaurant. They are always eager to help.
We love the steamed mussels, panang curry, pad thai, etc. - don't think you can go wrong with anything that is on their menu. If you have room for dessert, try the sweet rice with mango. Yum!
Entertainment book savings: Buy one lunch or dinner entree at Thai Royal Orchid, get one FREE! Save up to $12.
Get $5 off and Free Shipping on the book today!
Thai House
1069 E Shaw Ave, Fresno CA 93710
559.221.7245
Sample Thai House Menu

Location: Restaurant is located in the complex at the Southeast corner of Shaw and First Ave.
Review: This is another good Fresno Thai restaurant with yet another extensive menu. Their menu is actually very similar to Thai Royal Orchid's. Check out Thai House's menu.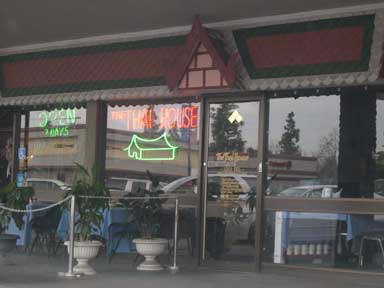 The food at this Fresno Thai Restaurant is also good but from our experience, the service can be good on one visit and lacking on another. Entertainment book savings: Buy one lunch or dinner entree at Thai House, get one FREE! Save up to $10.
Get $5 off and Free Shipping on the book today!
Bangkok City
1627 E Ashlan Ave, Fresno CA 93726
559.227.9776

Location: This Fresno Thai Restaurant is located at the NW corner of Ashlan and Blackstone Ave.
Review: The first thing you notice as you walk through the doors is the dance floor smacked right in the center. This is obviously more than a restaurant. We later found out that they also have karaoke and dancing on certain nights. We went on a Friday evening and it was virtually empty. In fact, the staff seemed almost surprised to see us.
We looked through the menu and since we were starving, we looked for the appetizers. There were none. The menu itself was difficult to read with the curly font and colored background. We quickly decided to go with the Panang curry with chicken, Thai Pepper Steak and the Pad Thai with pork. Degree of spiciness - Medium.
The Panang curry was excellent - the creaminess of the coconut milk and the degree of spiciness was just perfect. The Pad Thai was very good too and came medium spicy as well, which was a surprise.
The Thai Pepper Steak was a miss - the beef was tough, the flavors were just not impressive. There also seemed to be too much gravy in this dish.
We also had their Thai Iced Tea which seems to taste amazingly good at any Thai restaurant! Conclusion - the food is good enough to warrant a 2nd visit but the ambiance is just not there. And it seemed strange that we were the only ones dining there on a Friday evening.