Parma Restaurant
In our opinion, Parma Restaurant is the top Fresno Italian restaurant and one of the best fine dining choices in Fresno. If you're looking for an incredible Italian meal in Fresno, Parma should definitely be your top choice.
Below is the restaurant review. We invite YOU to share your own personal restaurant experience by submitting a
restaurant review
. We and our readers would love to hear your thoughts!
Parma Restaurant
7089 N Marks Ave, Fresno CA 93711 559.432.3389
Location tip: This Fresno Italian Restaurant is located in the shopping complex at the NW corner of Herndon and Marks Ave.
Review: Excellent hand-made pasta. We had a lunch special with 3 types of ravioli and they were simply divine! Italian breadsticks, bread and butter comes with the meal.
For a Fresno Italian restaurant this good, we are surprise that you don't hear more about it. Perhaps this is due to its non-centralized location in NW Fresno(?)
Anyway, do go to Parma and try it out yourself. On warmer days, you can even sit out on their cozy patio.
Give yourself plenty of time to eat here. Service is good but at a relaxed "European" pace. So sit back, enjoy your meal and the Italian conversations!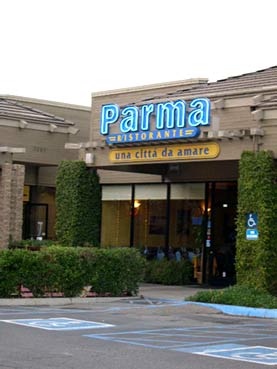 Update Feb05: We had the pleasure of dining at Parma again. We are very happy to report that the food was even better than we had remembered! We splurged on this special occasion.
For starters, we had zucchini with mozzarella cheese and pine nuts, liver pate served with granny smith apple and toasted slice of bread and rock shrimp ceviche. The zucchini was simply delicious, soft, crunchy and flavorful. The liver pate was really good too, contrasted well with the slightly tart apple.
Then came the pappardelle pasta with a creamy white sauce and spinach ravioli. These were just exquisite....oh so good...You cannot go wrong with pasta at Parma! (In case you were wondering like I was, pappardelle is pronounced "pah-par-dehl-leh" and is a long, flat, wide pasta. The word pappardelle comes from the Tuscan word "pappare", meaning to eat.)
The entrees were beef wrapped with bacon and served on top of scallop potatoes with truffle-based sauce and lobster tail with lemon risotto. Again, the flavors were well-balanced and the meat (and lobster) perfectly cooked and soooo flavorful.
The dessert was a puff pastry filled with cream and served on raspberry sauce. What a great way to end the amazing meal.
What we appreciate most about Parma is that the dishes are always well-balanced and never smothered with the sauce or cheese, as you often find in bad Italian restaurants.
Pasta is cooked al dente as it should be and the flavors well-matched. A lot of thought and effort has gone into preparing the food. Service was excellent too.
It was really on the best meals we've had! We've tagged along with friends to many Italian restaurants in Berkeley and San Francisco's North Beach, Zagat's list and all and we think that Parma Restaurant is one of the best Italian restaurants!
Parma Restaurant is definitely the top Fresno Italian restaurant and one of the top restaurants in Fresno so do go check them out.