Sano's Sushi Japanese Restaurant Review
Sano's Sushi is an excellent Japanese restaurant that provides a variety of Japanese food at reasonable prices. As such, it is one of our favorites. Please do share your restaurant experience with our readers by
submitting a restaurant review
! Below is our review:
Sano's Sushi
7375 N Palm Bluffs Ave
559.432.2926
Sample Sano's Sushi Menu
Location tips: North of Herndon Ave, West of Palm Ave. If you are driving north on Palm Ave from Herndon, make a left onto Pinedale and you can't miss it.
UPDATE June 2005: Sano's Sushi is currently closed. A note on their door suggests that they're moving to a new location - no details as to where. We tried calling but the phone just rang and rang with no voice mail. If you've more info, please let us know.
Review: They serve a complimentary plate of edoname the minute you sit down so if you are starving, you'll have something to munch on immediately. Great sushi - Saba (mackerel), hamachi (yellowtail), spicy tuna roll, etc.
The green mussels are really good - they are baked with some sort of marinara sauce - Oishii (delicious)!
Sano's sushi has an extensive menu which includes appetizers, salads, sushi, sashimi, special sushi rolls, entrees, combination dinners and boat dinners. But those are regular items that you can get at most Japanese restaurants.
What we love about Sano's Sushi is that it offers several Japanese specialty dishes such as Shabu shabu, Sukiyaki, Yosenabe, Nabeyaki-Udon and Kamameshi. We must admit that before Sano's, we've only heard of Shabu Shabu and Sukiyaki.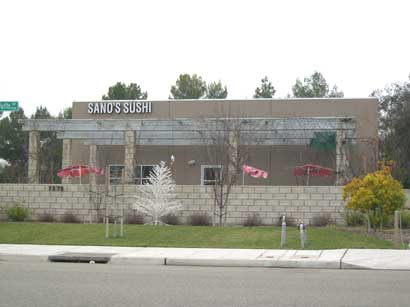 After several trips to Sano's Sushi, we've tried 3 out of 5 of those specialty dinners. I've had Sukiyaki at many restaurants but many were disappointing. Not Sano's.
The Sukiyaki here is excellent. In my opinion, it's all in the broth and at Sano's Sushi, the broth is very flavorful, not overly salty or sweet.
If you've never had Sukiyaki before, it is a very popular one-pot meal in Japan. Thinly sliced beef is simmered in a skillet or pan in the sukiyaki sauce with leeks, onions, tofu, mushroom and noodles.
The traditional way is to dip the cooked food into beaten raw egg before each bite (you can omit this if you prefer). Sukiyaki is a great way to warm you up on those cold, winter nights.
Yosenabe is another one pot dish with different kinds of seafood and vegetables. For us, this dish was bland and we did not enjoy it as much.
Kamameshi came with a plate of tempura, a special small pot with rice cooked with chicken and other ingredients (looks like fried rice) and a bowl of udon with fish cake (yep, it's quite a bit of food, all good nevertheless). Kamameshi is a popular dish in Japan. We had this at Sano's in Jan 05.
By the way, the teriyaki chicken here is very good as well. Here is a sampling of Sano's Sushi Menu.
Depending on how many dishes you order, you could easily spend anywhere between $20-50 for two people.
This is one of our favorite Fresno Japanese Restaurants.