Fresno Japanese Restaurants - Yoshino
Below is our review of Yoshino Japanese restaurant: Please do share your restaurant experience with our readers by
submitting a restaurant review
!
Yoshino River Park
7776 N Blackstone Ave (N/Alluvial)
559.432.4244
Location tips: Restaurant is in the River Park complex, close to the Edwards Fresno Stadium 22 movie theatre.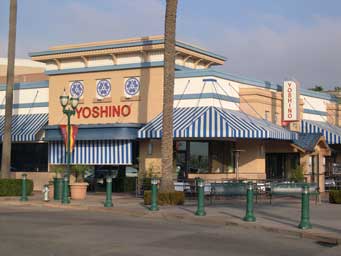 Review: This is one of the few Fresno Japanese restaurants that we are aware of, that have the sushi boats floating on the "sushi canal".
The advantage of sitting at the sushi bar is there is no waiting for your order. Just watch what is "floating" by in front of you and pick up what you want.
The disadvantage of sitting at this sushi bar is that they pack you in pretty tightly. As such, we prefer to sit out on the patio and order the sushi instead, especially in the summer.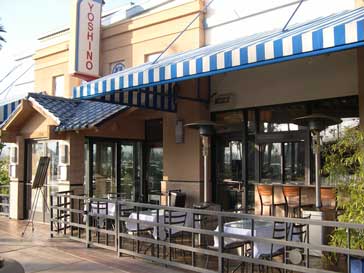 Nevertheless, this Japanese restaurant is a convenient place to go, especially after watching a movie.
They serve all the traditional sushi fare as well as not-so-traditional Japanese food e.g. fried calamari and sushi rolls with concoction of cream cheese and seafood.
There is also this fabulous dessert with strawberries and custard - not sure if this is seasonal or always on their menu.
When in doubt, just ask!
Another of our favorite Fresno Japanese Restaurants.