Fresno Bakery
Are you looking for a Fresno Bakery? There are many in town but perhaps the two more popular ones are
Lauck's Bakery in the Tower District
and
La Boulangerie in Fig Garden Village
. They both offer fancy tarts and tortes, cakes, French pastries, bierocks, bread and more cookies than you can count! Here are our reviews:
Lauck's Bakery
935 E Olive Ave 559.233.2289
Location tip: At the NW corner of Olive and Van Ness Ave.
Review Feb05: This Fresno bakery is a gem in the Tower District offering bread, cakes, many different types of cookies, croissant, muffins, pastries and bierocks. The croissant here is "American-sized" but very good - soft and fluffy, yum...
They also have this chocolate eclair that is filled with soft, creamy, sweet custard - you could seriously be addicted to this!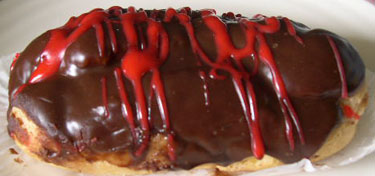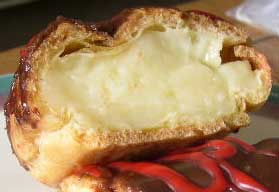 But probably their most famous item is the bierock. What is a bierock? A bierock is really a baked bun filled with beef, cabbage, onion and seasonings.
Here is a picture of a bierock: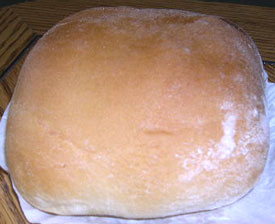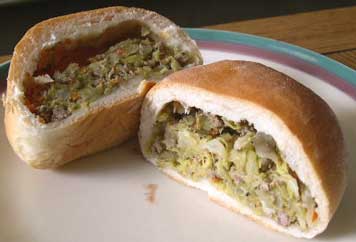 According to "bierock history", it came from German-Russian immigrants and eventually made its way to the Midwest, especially in the states of Kansas and Nebraska. Interestingly enough, it is called a Bierock in Kansas but a Runza in Nebraska.
A Bierock makes a great "portable meal", easy to eat while on the go. It is flavorful, delicious, filling and relatively cheap.
At Lauck's they have 3 different types of Bierocks - the original, mildly spicy and spicy with Jalapenos. While they're all good, our favorite is the spicy Jalapenos version. A bierock costs $2.50 and comes with coffee or soda. Or buy a dozen for $18.
Lauck's has a few small tables so you could choose to eat your bierock there if you like.
Hooked on bierocks and wanna try making them yourself? Here are a few bierock recipes!
La Boulangerie
3234 N Palm Ave 559.222.1500
Location tip: This Fresno Bakery is located at the NE corner of Shaw and Palm, in the Fig Garden Village.
Review Feb05: Oooh, la, la....La Boulangerie! Sounds French to me! This is another great Fresno bakery.
There are so many choices that you'll either be standing there for a while wondering what to get or you'll be saying "I want one of these, one of that, and one of that...."
They have bread, muffins, pastries, cookies and cakes and tarts that almost look too good to be eaten. This bakery has more of a cafe atmosphere and it's always pretty crowded during the weekend it seems.
You can definitely enjoy your coffee and pastries here, in fact you could even pretend that you're at one of the sidewalk cafes in France!