Fuzio Universal Pasta
Fuzio is a restaurant chain that serves up global fare. Here is our review:
Please do share your restaurant experience with our readers by submitting a restaurant review
Fuzio Universal Pasta
7742 N Blackstone Ave
559.447.4777
Sample Fuzio Menu
Location tip: Restaurant is located in the River Park Shopping complex, by the Edwards movie theatre.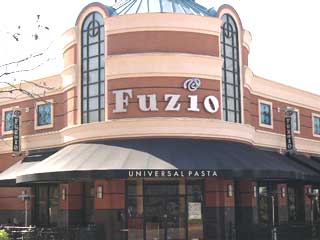 Fresnohub Reader Review, submitted 19 August 2005: I've eaten at this place many a time, I've fell in LOVE with their Crispy Calamari Linguini dish. Its is very well made! I'm Sicilian and eat out at lots of Italian places, I think it's a little place with a lot of pizzaz! The seating is kind of cramped I agree with that, however it won't detract me from eating where good food is! I love going to eat there. Grazie~ Ciao Adrianna
Fresnohub Review Team: Their theme is international pasta so you will find all sorts of global themes here. The food is ok but not spectacular. We've tried their California Chicken Sausage Penne, Singapore BBQ Pork, Shanghai Curry Chicken and Mediterranean Salmon. All were mediocre, the salmon dish was the tastiest among them. Check out a sample Fuzio's menu here.
Unfortunately, the patio is prime real estate space and they pack you in tight. The tables are small and there is hardly any room to move your chair. Nevertheless, the patio seating is a great place to people watch. There is water mist in the summers and heat lamps in the winter.