Fresno Fine Dining Restaurants
What is
fine dining
anyway? We don't know how professionals define it but for us, fine dining means great food, fabulous ambiance and higher prices.
There are several great choices in Fresno where you will have a fantastic dining experience. Prices are slightly higher, as expected, but they are really not too bad. You will generally find many entree options between $15 and $25 and up to $35.
Whether you are celebrating a special occasion or you just feel like splurging on a good meal, these restaurants are probably your best bets! Below are some of the best we've tried in Fresno. We'd love to receive your restaurant review!
Citron Continental Bistro
5123 N Blackstone Ave
Fresno CA 93710
559.224.6060
Location Tip: This fine dining Restaurant is located on the NW side of Shaw and Blackstone Ave.
Fresnohub Reader Review for Citron, submitted 24 July 2005: CONSUMERS BEWARE!!! This restaurant appears to be a 5 star experience from the outside appearance. Once you walk in, the nightmares begin. We thought the place would be busy for a Friday night, when we dined the restaurant was unusually bare of customers.
We waited for 45 minutes just to get an appetizer from the bar. Once our party of 12 was seated, our waitress was in poor taste. She took drink orders for only half of our party and never returned. The menu was extremely pricey. 4 of us ordered their lobster chef's special, the lobster was overcooked, dry, hard to remove from the shell.
The waitress never returned to refill our drinks nor ask if the food was ok. Extremely poor service and bad food!
We were referred to this restaurant by the "Entertainment book", we tried to use the discount card (buy 1 entree, second entree free). They did not honor this, we were told they didn't honor it after 6pm, the details in the Entertainment book didn't specify that.
The table nearby was very upset with their service and the refusal to honor the Entertainment book promotion. We all expressed our frustration and dissatisfaction with Rimon Hanna (restaurant owner), he was extremely rude and unsensitive.
Rimon does not take pride in his restaurant, poor customer service. We were not compensated for the poor service or food, the total bill was over $330.00. I STRONGLY DO NOT RECOMMEND THIS PLACE!
Campagnia
1185 E Champlain Dr, Fresno CA 93720
559.433.3300 Location tip: This fine dining Restaurant is located in the Washington Square Shopping Center at Champlain and Perrin. Look for the SaveMart. Review: This is a very good restaurant, arguably fine dining at its best in Fresno. Campagnia is a region in Italy which the restaurant is named after. Since I love maps, here is one that shows where the Campagnia region is: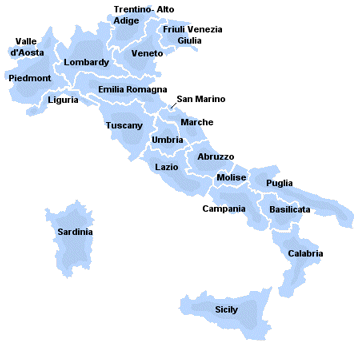 Italy is shaped like a "boot" and the Campagnia region is located on the "shin" of the boot. In case you're wondering, Rome is located in the Lazio region and Florence is in Tuscany. Naples is the densely populated capital of Campagnia. From what I've read, the Campagnia region is a great agricultural area, thanks to Mt Vesuvius and the fertile volcanic soil. Much of the food of Campagnia (restaurant) is supposedly inspired by this region though you will find plenty of other Asian and American influenced dishes on the menu as well. Excellent food and ambience. Extensive wine list. Campagnia has two patio areas and a lively bar area. Make reservations or be prepared to wait! Check out the Campagnia lunch menu and their dinner menu.
Update Feb05: We were recently at Campagnia for its Sunday Champagne Brunch Buffet with several friends and had a fabulous time. We were initially hesitant to sit in the terrace but found out that the terrace was heated with heat lamps. And those things kept it nice and cozy! As soon as we sat down, the server asked if we would like a complimentary glass of champagne..hey, why not? There was live music (jazz) playing, two waterfalls and lovely greenery in the terrace, all adding to the dining ambience.
The buffet included assorted rolls, pastries and breads; fruit, pasta, cucumber/spinach and Caesar salad; sausage, bacon, fries; prime rib, turkey breast and salmon. We really liked the caramelized apple French toast and crab salad on a cucumber. There were also made-to-order omelets. You get to choose from bacon, ham and/or shrimp; swiss, cheddar and/or mozzarella cheese; tomatoes, onions, mushroom and/or bell peppers. The omelet was really good - soft and generously filled. There were, of course, desserts! We were so full at that point that we only tried 2 of the desserts. The chocolate torte was not impressive - it was hard and not the decadent chocolate dessert I was hoping for. The lemon cake was much better. The cake was sweet, soft and light and contrasted well with the tangy lemon. This was a really great way to spend a lovely Sunday afternoon with friends. We had a fantastic time at Campagnia and you probably will too. Here's an example of their Sunday Brunch Buffet Menu.
609 Grille
609 E Olive Ave, Fresno CA 93728
559.442.5883
Location: Restaurant is located in the Tower District, on Olive Ave between Palm and Wishon Avenues. Next door to Echo Restaurant.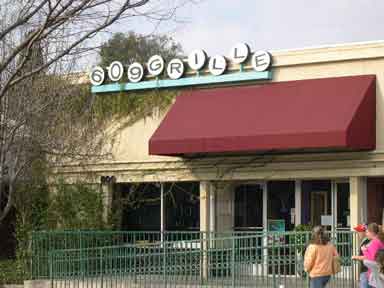 Review: This is another Fresno fine dining restaurant that we really like. 609 Grill's concept, from what we've heard, was "to provide a steak house for the Tower District, with nice cuts of beef, fresh seafood and vegetables, and nice starches such as garlic mashed potatoes". There is a good selection of entrees on the menu and there is probably something for everyone. Great food and service. The last time we were there, the mussels appetizer and the seafood pasta was just delicious and excellent. The dining area is not that large and they do have patio seating for warmer days. Reservations are recommended.
Max's Bistro and Bakery
1784 W Bullard Avenue, Fresno CA 93711
559.439.6900
Location tip: This fine dining Restaurant is located at the Northeast corner of Bullard and West Avenues.
Reviewed by fresnohub reader, submitted Feb26, 05: We go out with the kids every friday so we try different venues. recently returned to one of our favorites in old neighborhood. I wondered why on a friday eve the place was quiet and then I got the check! wow, $185 for 4 is steep even if food and service is outstanding. even on a splurge thats a lot given the other choices in town whose menu is better (Echo, Campagnia)They still have the best looking restaurant in my opinion but I'll have to go back for lunch only.
Our Review: The first thing you'll notice or smell when you enter Max's are all the delicious bread and desserts in their gourmet bakery section. If you can tear yourself away from the bakery and proceed to their dining area, you will be treated to a great fine dining experience. They have quite an extensive wine list as well. The menu is "French-inspired California Cuisine style" created by Executive Chef Kent Specht. Here's a sample of Max's Bistro menu. Reservations are recommended.
Veni Vidi Vici
1116 N Fulton, Fresno CA 93728
559.266.5510
Location: Veni Vidi Vici is located in the Tower District, on N Fulton just south of Olive Ave.
Review: The first thing that will strike you about this Fresno restaurant are the large 15-foot doors. Inside, you will find exposed red brick walls contrasted with metallic décor. Great Californian fine dining cuisine and ambience. Good bar scene and live bands magnify the appeal of this restaurant in the Tower District. You should have a good fine dining experience here. Reservations are recommended.
Echo Restaurant
609 E Olive Ave, Fresno CA 93728
559.442.3246
Location: This Fine Dining Restaurant is located in the Tower District, on Olive Ave between Palm and Wishon Avenues. Next door to 609 Grill Restaurant.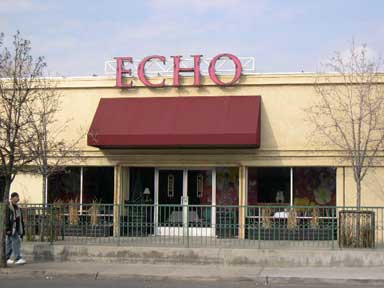 Review: Echo is a highly acclaimed Californian cuisine-style fine dining restaurant in Fresno. The menu changes daily as chef and owner Tim Woods strive to cook from the freshest ingredients available in the valley. Maybe we were there on an off-day, but the food was not spectacular or memorable for a fine dining restaurant. Echo will be moving to a new location at Champlain and Perrin (Piazza Del Fiore) next year and we will probably give it another shot then. Reservations are recommended.
Rousseau
548 E Olive Ave, Fresno CA 93728
559.445.1536
Location: Restaurant is located in the Tower District, on Olive Ave between Palm and Wishon Avenues. Across the street from 609 Grille Restaurant.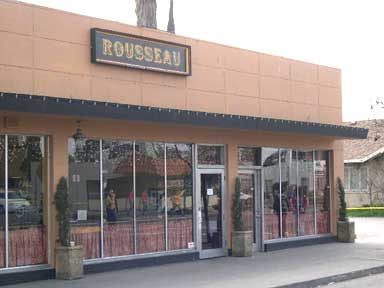 Review: We had just an ok dining experience here. In our opinion, food was somewhat mediocre. No liquor license but they allow you to bring your own wine. Cash only. Reservations are recommended.