Yosemite Day Trip
A Yosemite day trip is possible but not recommended.
If you really have only a day, you will need to have and follow a strict schedule. For a successful day trip, it's best to go during the summer when days are longer. Here is a possible Yosemite day trip itinerary, assuming you use Fresno as your base:
1) Stay in one of the north Fresno Hotels overnight. Make sure to pack all the essentials: water, camera, extra film, spare batteries, spare memory card, some snack food, maps. Also make sure your car has a full tank of gas.
2) Start your Yosemite day trip by leaving from Fresno early at 7am.
3) Arrive at South entrance at 8.15am. Pay the entrance fee and move ahead.
4) Once you pass the gates, you will come to a Stop Sign. Make a right to go to Mariposa Grove, just a short drive away. This is the land of the Giant Sequoias.
Park the car and walk around to see the sequoias. There is a short trail you could take in this area that is worth doing. You will see the Grizzly Giant and California Tree here.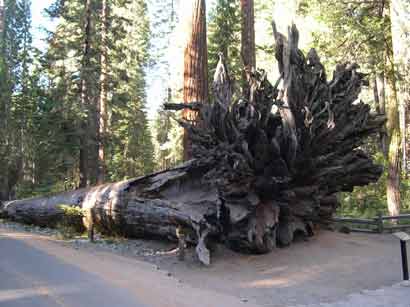 5) Back in the car, head past the entrance and in about 20 minutes, you will pass Wawona. The historic Wawona Hotel is one of the oldest mountain resort hotels in California. You could stop here if you like, check out the hotel and its grounds.
6) Continue on the road for another 45 minutes or so, then make a right onto Glacier Point Road. Glacier Point itself will be approximately another 30 minutes from here. Ideally, you should be at Glacier Point at about 11-11.30am. There are a few overlooks on the way up to Glacier Point and you could stop at one of them. The views are really amazing.
Glacier Point is a MUST see and not to be missed!
The views of the valley are breath-taking and your camera will be put to good use here.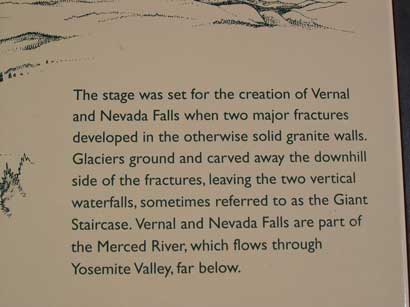 There is a café at Glacier Point where you can get sandwiches for lunch. This will be lunch with a view.
7) Unfortunately, we are on a tight schedule so along we go. It is about 12-12.30pm.
Another 30 minutes down Glacier Point Road and make a right at the Stop sign to head towards Yosemite Valley.
After about 30 minutes you will reach the famous Tunnel View. Drive slowly and make a left into the parking area just after you exit the tunnel. This is probably the image most people see when they think of Yosemite.
This is a picture-perfect, postcard-made view of Yosemite. Again, your camera will be very busy here (did you remember to pack spare batteries, film or memory card?)
8) Tear yourself away from the tunnel coz there's plenty left to see. It's probably about 1.30-2pm now. This is about the halfway point of your Yosemite day trip.
Head into the valley and stop at Bridalveil Fall. There is an easy, 20 minute (roundtrip) trail to the bottom of Bridalveil Fall and you'll see a great view of the fall.
9) OK, we are heading into the valley again and prepare to be distracted left and right. You will see the swinging bridge, the Chapel, views of Yosemite Falls, Half Dome, El Capitan as you proceed down the road. Stop and take pictures.everybody does!
10) It is now 3.30-4pm and you are finally at Yosemite Valley (your Yosemite day trip is nearing the end). A highly recommended hike is to Vernal Falls.
It is a moderate hike of 1.5 miles roundtrip (approximately 1.5 hours) to the Vernal fall footbridge where you will have a view of 317 foot (97 m) high Vernal Fall.
You could choose to continue the hike and go all the way to the top of this waterfall. This is a strenuous hike to the top and the trail becomes so steep that it takes a staircase of 600 granite steps to get to the top. In spring and early summer, you can expect to get wet.
For an easier hike, try the 2 mile roundtrip (1 hour) hike to Mirror Lake. You will be right at the bottom of Half Dome and have a great view of it from Mirror lake.
Or you can take the 2 hour Valley Floor Tram tour. It is available year round and costs about $20. It leaves from Yosemite Lodge several times a day.
Make reservations at Yosemite Lodge lobby, Curry Village or the Valley Visitor center.
11) Hunger is probably setting in at this point of your Yosemite day trip so have dinner at the valley. Shop at the gift store, check out the Ahwahnee Hotel.
12) Your Yosemite day trip has come to an end. It has been a tiring but productive day!